HOW TO GET WARM BROWN HAIR
Use our tips to find the most flattering warm brown hair color for you as well as how to bring out the brilliance of your natural warm brown hair.
Find the best warm brunette shade for you!

Warm brown hair is beautiful, even if it is common. Brown hair naturally has undertones of red, orange, and yellow, which all combine to give it warmth. Given the right shade, warm brown hair can look good on just about anybody!
Here are some tips for getting the most flattering warm brown hair color that compliments your skin and eye tones, as well as how to bring out the brilliance of your natural warm brown hair.
Shop Color Vibrancy Shampoo
Regular price
Sale price
$9.49
Unit price
per
What is Considered Warm Brown Hair?
Hair colors, like skin and eye tones, can be warm or cool. Warm brown hair has lots of coppery red, golden and honey tones that give it luxurious depth and dimension. Think chocolate brown, auburn, light honey or a rich mahogany.
If your hair is naturally warm brown, your skin and eye colors are most likely warm-toned as well. Warm brown shades complement peachy, golden, and olive complexions with warm brown, green, and hazel eyes best. But even neutral or cool-toned ladies can rock some golden or coppery highlights. The trick is to find the right shade for you and maintain your color carefully to ward off unflattering brassiness.
How to Find the Right Warm Brown Hair Color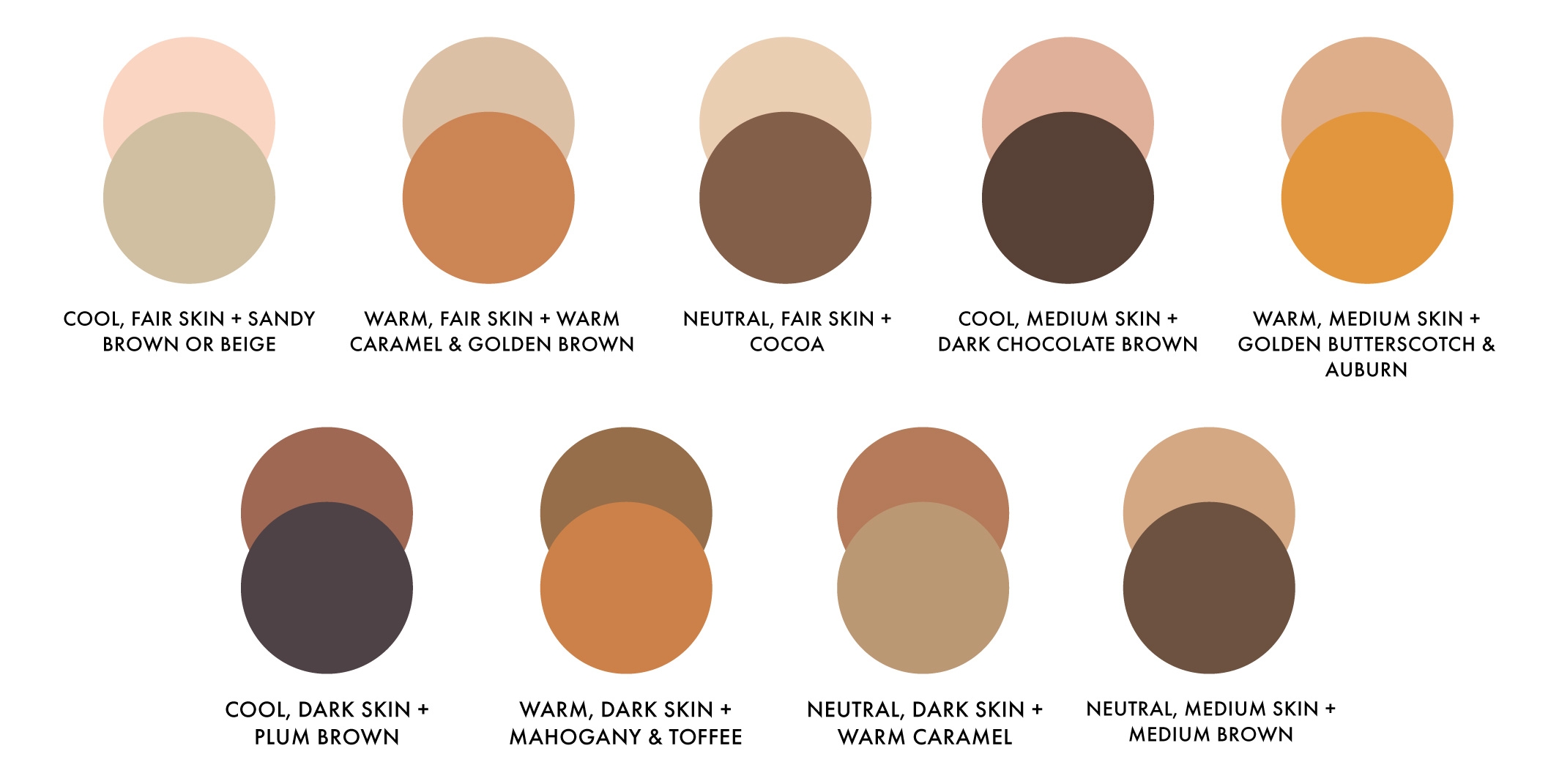 Ready to add some warmth to your hair color? The most flattering shade of warm brown starts with your complexion. If you have:
Cool, Fair Skin: Choose a sandy brown or beige-color highlight to warm up your look while complementing your light eyes and complexion.
Warm, Fair Skin: Warm caramel and golden brown shades look stunning on those with peachy, golden undertones and warm eyes.
Neutral, Fair Skin: A balanced cocoa shade with some buttery highlights contrast beautifully with fair-skinned ladies rocking baby blues.
Cool, Medium Skin: Go for a dark chocolate brown that'll work well with your brown or hazel eyes.
Warm, Medium Skin: Golden butterscotch and auburn tones can help give your warm, medium complexion a healthy glow.
Neutral, Medium Skin: A rich, glossy medium brown shade can add some warmth to neutral skin and eyes.
Cool, Dark Skin: A plum brown ombre or balayage looks awesome on dark, cool-skinned ladies, adding a touch of warmth to cool tones.
Warm, Dark Skin: Deep mahogany and toffee colors are extremely flattering on dark, warm complected gals.
Neutral, Dark Skin: Rich, warm caramel highlights look gorgeous with this skin tone.
How to Care for Your Warm Brown Hair
Whether your hair is naturally a warm brown shade or you've added a warm balayage, highlight or ombre to your style, warm brown hair is prone to brassiness. Sun exposure, color fading, heat damage, and other factors can strip your hair of its depth and shine, leaving it dull and brassy-looking. So how do you keep your warm brown hair color shiny, fresh and vibrant? Here are a few of our top tips.
Counteract brassiness with a blue shampoo and conditioner. Because orange is the opposite of blue on the color wheel, the blue pigment in blue shampoos and conditioners cancels out brassy orange tones in warm brown hair. Wash and condition with this duo once or twice a week to keep brassiness at bay.
Protect your locks from sun exposure. Sun exposure has a natural bleaching effect on hair. Spending too much time in the sun can cause unflattering brassy red and orange tones to come out in warm brown hair. Wear a wide-brimmed hat to protect your hair if you plan to spend the day in the sun.
Limit heat styling. Blow-drying and heat-styling your hair can dry out your locks, dulling shine and revealing brassy undertones. Limit heat by air-drying and styling your strands with a styling spray instead. Use a heat-protecting spray whenever you do blow dry and flat iron your hair.
Deep condition weekly. For color-treated warm brown hair, a color-safe hair mask can help maintain your color and give it a more luminous look.
Refresh your color with a gloss treatment. If your warm ombre or highlights are looking less than vibrant, try a color-refreshing gloss treatment to refresh your color between salon visits. A gloss treatment will replenish lost tones in your warm brown hair color while eliminating brassiness.
Embrace the richness and dimension of your warm brown hair color. Check out more of our hair care tips for brunettes