HOW TO RESTORE SHINE TO HEAT DAMAGED HAIR
Learn how to restore shine to heat damaged hair with John Frieda. Discover the best treatments and prevention tips for the ultimate TLC for your tresses.
Facing frizzy flyaways? What about breakage and dryness? You may be up against heat-damaged hair. Although there isn't a quick fix, there are some things you can do to minimize damage and reclaim that shine.
Let's comb through our top heat damage repair tips, which can help renew your hair's shine and even help you skip a drastic snip in the future.
What is Heat-Damaged Hair?
Heat-damaged hair is when your hair health declines due to overusing heat. That can mean curling irons and flat irons but also remember that blow drying and getting a perm can cause heat damage too.
So what's happening during the process of getting damaged? Heat removes your hair's moisture. With heat damage, your hair's cuticle, the external layer of your strands, will break. Subsequently, the protein bonds of your hair break, too, damaging the cortex, the inner layer of your hair strand. When your cortex is damaged, your hair's ability to maintain moisture is weakened. When your hair can't maintain its moisture, it becomes dry and brittle, losing its shine.
With heat damage, your hair's cuticle, the external layer of your strands, will break…When your hair can't maintain its moisture, it becomes dry and brittle, losing its shine.
Curly hair types may be especially vulnerable to heat damage. That's because curly hair is already prone to breakage and dryness. Why? It's more difficult for oil from the scalp to reach the ends through curls than through straight hair, which means that curly hair can't naturally condition itself as easily.
Signs of heat-damaged hair may look different from head to head. Here are some ways heat damage may show up:
Tangled and knotty curls
Curls that lose their bounce and shape
Flyaways, split ends, and frizziness
Decreased elasticity
Dry, coarse hair
Color changes
Sometimes making the big chop is the best and most effective remedy for heat-damaged hair to allow it to start fresh. However, there are ways to mitigate the damage as your hair grows out.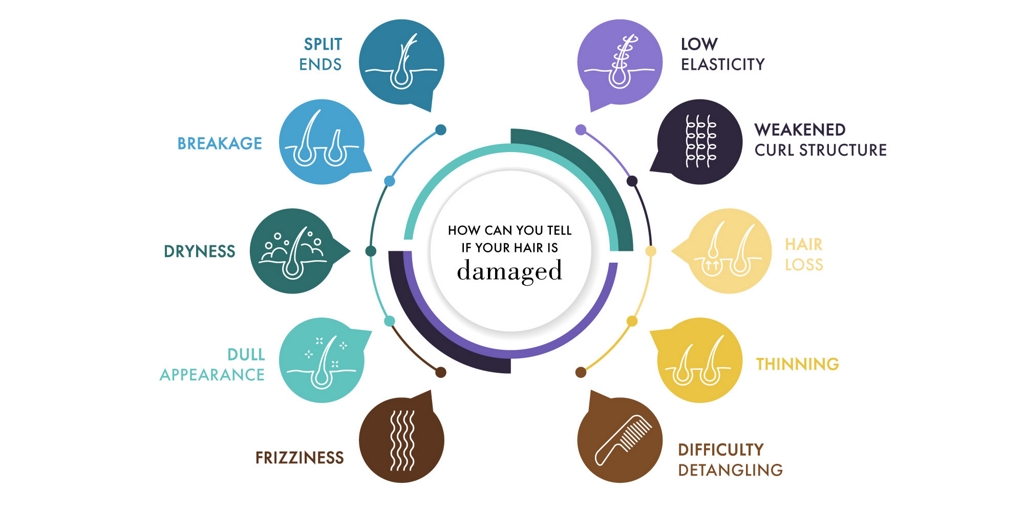 How to Restore Shine to Heat-Damaged Hair
Heat damage repair may take time, but there are ways to regain that glamorous shine as you head back to hair health. Now is the time to focus on heatless hairstyles, embracing your natural color and, perhaps, a trim or two. Treatments will be your new best friend, so embrace the change by scoping out safer products and grabbing that new sun hat you've had your eye on.
Now is the time to focus on heatless hairstyles, embracing your natural color and, perhaps, a trim or two.
Avoid Heat
Your first step to helping your hair heal is to stop using heat. If you must, apply a heat protectant first and use the lowest setting, but consider using no-heat hairstyles first, like waves from overnight braids.
You can also try protective hairstyles like Bantu knots or box braids. Dying your hair or getting a perm can also cause heat damage, so it's also best to avoid these and not add fuel to the fire.
Wash Your Hair Less
Moisture retention is crucial, so try washing your hair less. When you wash, use a shampoo and conditioner to bring out the shine in your hair and dry off with a t-shirt or microfiber towel.
Deep Condition Your Hair
Use a deep conditioner at least once a week. A deep conditioner can help your hair to slowly repair itself by adding more moisture.
Try a Serum
You can also try a serum to protect from heat and humidity and tame frizz.
Use a Hair Oil
A leave-in treatment or frizz-defying hair oil is a quick way to get hydration and shine back to those brittle strands. If you have a little extra time to dedicate, try a hot oil treatment at home.
First, test out the oil on a small area of the skin. Good to go? Follow this tutorial for an at-home salon experience:
Wash your hair.
Microwave oil of choice for a few seconds. Consider avocado, coconut, & argan oils.
Test the oil on your skin to ensure it's at a manageable temperature.
Apply oil to your hair.
Leave in for about 20 minutes.
Wash your hair and use a regular conditioner.
Don't Get Too Much Sun
Sun exposure doesn't only affect your skin, but it can cause heat damage to your hair as well. Just rock your favorite bucket cap or flaunt a sun hat to prevent sun-damaged hair.
Get a Hair Cut
Now let's talk chop: making the cut is the most effective and efficient method to mitigate heat damage and restore shine to heat-damaged hair. This prevents split ends from continuing to split upwards, so the sooner, the better. Not ready to part ways with your length just yet? Consider frequent trims for the foreseeable future.
Ultimately, just be gentle with your hair right now. From brushing to steering clear of tight hairstyles, treating your mane with love and care will go a long way in restoring shine to your beautiful locks.
How to Prevent Future Heat Damage
Prevention is key for keeping heat damage at bay. The above tips, such as incorporating different methods of hydration, frequent trims, and minimizing sun exposure, are not just great ways to regain that shine but also great aids in preventing heat damage from ever happening. Here are four more ways to prevent heat damage and make sure your hair has all the shine all the time:
Heat protection
Wet hair is more vulnerable than dry hair, so only apply heat on dry, detangled hair. Use a heat protectant spray to minimize potential damage, and choose a low setting. The lower, the better.
Avoid heat as much as possible
Use heat as sparingly as possible, and opt for heatless styles the rest of the time, like heatless waves or curls. Air drying is great for your hair, so try washing when you know you'll have time to air dry.
Ensure your hair is moisturized
Don't skimp on conditioning. It's a great way to restore shine and prevent moisture loss! Deep condition regularly and utilize leave-in-conditioner for frizzy hair as a way to give your hair optimal moisture.
Trim
We've already mentioned trims, but it's important to mention them again. Trims rid your hair of dreaded split ends and strengthen your hair's overall health.
Now you have all the tools you need to restore that shine to your heat-damaged hair! Check out more John Frieda products for damaged hair here.